TransformNations Conference 2002
|
home




Rev.Dr. Alistair Petrie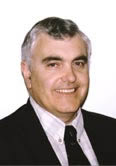 Born in Scotland and raised in Canada, Alistair's first career was in Canadian Broadcasting. He later undertook training for the Ministry in London, England at Oak Hill Theological College and the University of London, and was subsequently ordained into the Anglican Church in 1976 in York, England. His Doctor of Ministry degree was undertaken through Fuller Seminary in the area of Spiritual Issues in Church Growth. He has since ministered in parishes in both England and Scotland, as well as in his most recent position as Rector of Brentwood Anglican Chapel, Brentwood Bay, British Columbia, for over 15 years. He is married to Marie and they have two sons, Michael and Richard.
Alistair has been a proponent of renewal and evangelism in the Anglican /Episcopal Church for many years, and has been involved in conference and mission work as a plenary speaker and workshop leader throughout North America and overseas, having ministered across many nations in six continents. He is also a regular teacher with various mission ministries. Chosen Books published his first book dealing with stewardship and healing of the land in October 2000 entitled "Releasing Heaven On Earth". His most recent material - "A Sacred Trust" which is an interactive study addressing the issues of stewardship and healing of the land in preparation for Revival - was published in 2002 and has already received high acclaim in North America and overseas. His next book will be published in March 2003, which deals with the stewarding of the Presence of God. It explains how to retain God's Presence and Glory during and following times of Revival in order that Transformation at all levels of society is released and retained.
Alistair's main thrust of ministry in recent years has been in helping the Church to discover the cutting-edge insights of turning an entire community towards Christ in order that a community, a city, and a nation can be positioned and prepared for Revival. He gives instruction in the Biblical understanding of the stewardship of land and the effect this has upon people, churches, communities, and cities. Through this teaching it becomes possible to diagnose the bondages and wounds in an area through historical, cultural, physical, and spiritual research, which often impede effective evangelism. He has developed this teaching utilizing the tools of intercession, spiritual warfare, spiritual mapping, and commitment to the land, as essential components in liberating and transforming a community into Christ.
Alistair left residential ministry in June of 1997 in order to become the Director of Joshua Connection Canada, a mission ministry serving the broader Body of Christ. He later became the Director of International Operations for The Sentinel Group and is currently the Executive Director for Sentinel Ministries Canada. He currently serves on various ministry boards, and is an Associate Faculty Member for the Wagner Leadership Institute, as well as a guest lecturer at Fuller Theological Seminary. He is involved in several prayer initiatives currently taking place in several parts of the world.